Wow!
What a difference that a Journal Gazette article makes!  We saw eight new faces here at the Fort Wayne Inventors Club this month.
Here are some of our new faces.
Here is one of our new visitors explaining his invention to the crowd.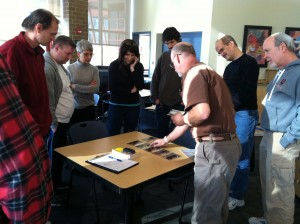 Our youngest inventor, Elora, was enjoying herself here today, too.  We're not sure what she was inventing today, but we're sure she was making something that will change the world.
Come see us next month and join in on the fun!